REGISTRATION IS STILL OPEN until Friday, November 1st at 4:00pm. Any registrations from October 28th onwards DO NOT include lunch.
Producer Day is a one day event devoted to dairy producers/farmers, as well as veterinarians and industry representatives.

Please note that Producer Day is a separate event from the Smart Calf Rearing Conference. Although all spots for the Smart Calf Rearing Conference are sold out, there are still spots for the Producer Day available! Sign up for Producer Day today to ensure your spot.
The registration fee for Producer Day includes:
– all sessions
– lunch at Creelman Hall, University of Guelph (if registered before October 28th)
– optional tour of Elora Dairy Research Station and student presentations
Transportation (e.g. a shuttle service) for Producer Day is not provided. However, parking is complimentary (no pass required). Please park in either P44 or P23/24 for easiest access to War Memorial Hall. Please see the map below for the parking locations.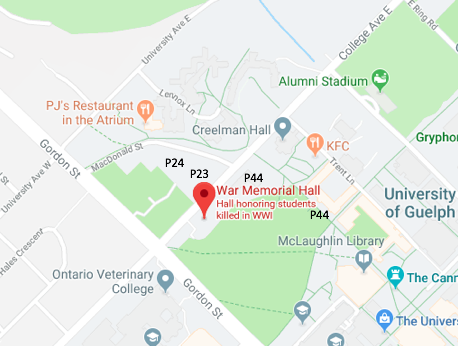 The registration fee is:
– $60 CAD/attendee from March 11th to November 1st at 4:00pm, 2019
– There will be no on-site registration and online registration will close on November 1st at 4:00pm
Request for cancellation must be sent via email to scrc@uoguelph.ca. The Producer Day registration fee will be fully refundable, minus a $15 CAD administration fee, until October 1st, 2019. After this date, the fee is non-refundable. Please note that if you register and do not show up to Producer Day that you are still responsible for payment.
HOW TO REGISTER
To register for Producer Day, please click here
SPECIAL NEEDS
If you require additional help or have certain dietary restrictions for the conference, please state this during the registration process when prompted, or contact scrc@uoguelph.ca at least four weeks prior to the conference so that we can serve you to our best ability.